HOME | UPDATES | JOIN | MEMBERS | LINKS
Here you will find an overview of the sets we have posted thus far.
We do remove each set after a while, so join if you do not want to miss anything!
We've been posting new sets and movies since 2003, so join if you do not want to miss any more!
---


Ann & Ba first cuddle in the shadow but then take a clothed swim in the pool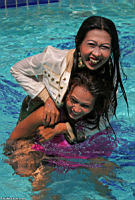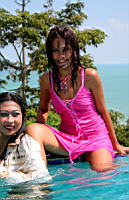 Pernille visits her Thai friends and colleagues and takes a swim with them in the waterfall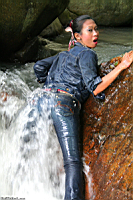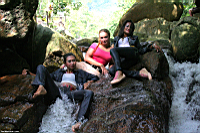 Nut and Pernille play in muddy waters and wash afterwards

Tuk and Lin in white pants and denim jacket with little tops.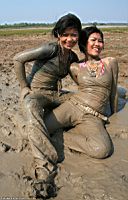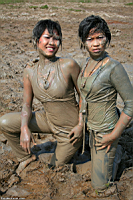 Two katoy with a good focus on the long jeans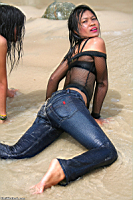 Pall is sexy on the shore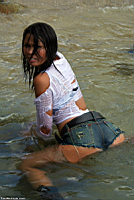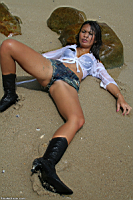 On plays in mud and water



Om, Pa and Pernille find a waterfall in nature while tourist walk around


A nasty set with Om & Te, very good charcoal and paint on hot girls!

Tuk & Lin in jeans an white pants get somewhat muddy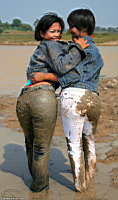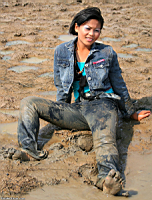 Pernille and Nut in jeans and jackets play/fight to get each other dirty!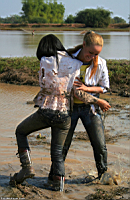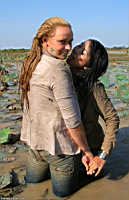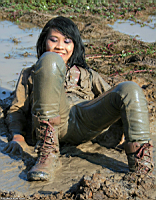 Pel & Ju use the swimming pool to get their sexy outfits wet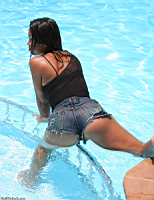 Om, Pa and Pernille play around in lack boots on the rocks in big waves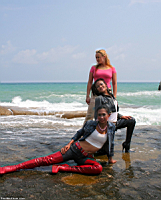 Pall in white blouse and a very tiny skirt with black boots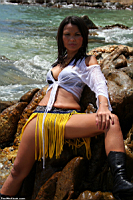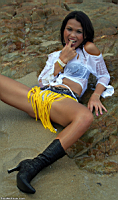 On gets her jeans outfit dirty by sitting in ashes, dust and mud. Nice thong btw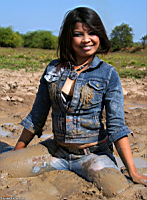 Pall is pretty and happy.... she is wearing a great jeans and white blouse which she gets soaking wet with fun!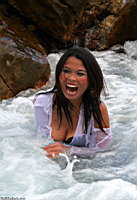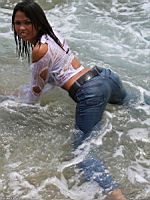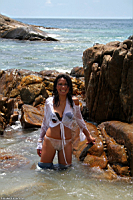 Tak & Yuy in shorts pose sexy on the beach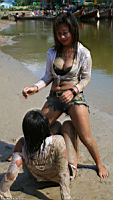 Om & Pa in very short shorts on the beach and in the ocean.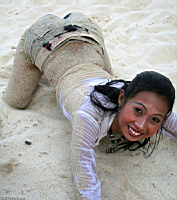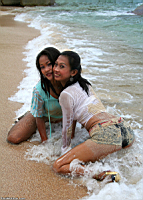 A double feature movie with 5 girls completely rolling in nice, thick mud!

240 pics of Pall and Yuy on a sunny day at the beach having fun with water and sand on their very short shorts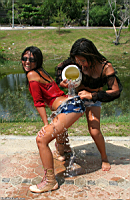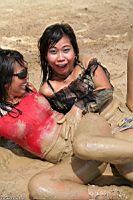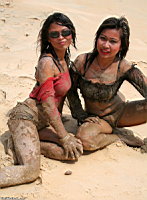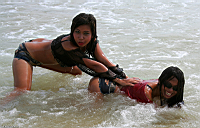 Big set of Ta in jeans shorts, lack boots and little top, getting muddy and wet

Nat & Bon in jeans pants and shorts getting wet

"What you mean, keep our clothes clean?":-)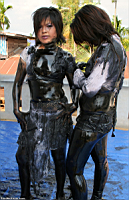 Movie of Pal & Ju at Patong beach, wearing jeans

Oy and Am in short skirt in orange clay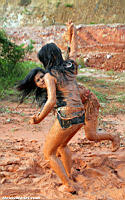 Ca in 2 outfits in the mud, a jeans with white blouse and a lack suit

Very good video of FIVE Thai girls crawling in dirt,
then finding a good wet mudspot where they have their own mudparty!

Danish Pernille teams up with Thai girl Ma in a boots-in-the-mud-game... Some good washing afterwards :-)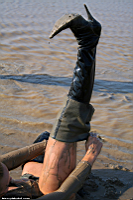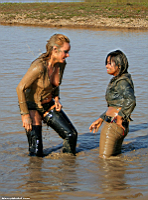 Ging and Mon find a flooded street to wash after the mudding, but it's even easier with the hose at home.

Movie of two crazy girls wading in deep mud!

Another set with orange clay, two friends in jeans abuse the mud and have fun!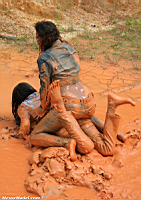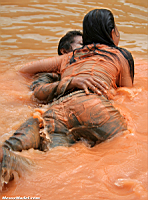 Lack boots and little lingerie but it are her poses that make this dirty set so hot!

Continuation of Job & Kim
These two girls moan a bit much, but do know how to get their boots stick

Bo & Nut in very short shorts and a little jacket first get muddy, then wash themselves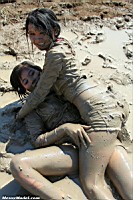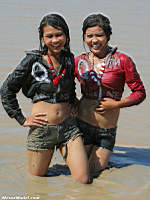 One for the lovers of very high boots, wading in mud.
These two girls moan a bit much, but do know how to get their boots stick

Ca in a tight jeans gets herself muddy in this small, but very pleasant set!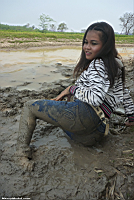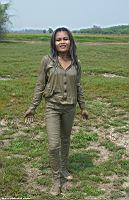 Bee, Far & Puk first play in muddy waters, after cleaning up they pose some more

Great movie of Dung and her friend in jeans outfit playing in mud and getting themselves completely dirty!

Wang hoses herself down in tight jeans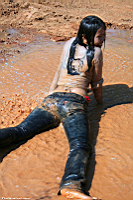 Pat & Wan play in the ocean in their long clothes,
and Bambi who went with us also took a little dive since it was such a hot day.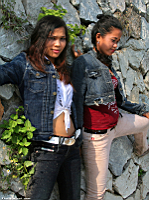 Oy & Pat first play in the mud, then wash themselves, with pleasure!

Movie of Vang & Tukta, they find a muddy puddle and have some dirty fun! :-)

Om and Te in hotpants play with water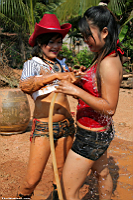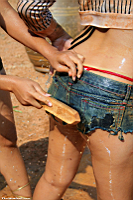 Sexy and muddy Thai girls, losing clothes while playing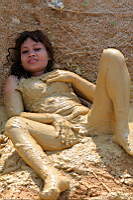 Two girls in the jungle in a lake where they make a great mud spot!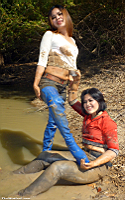 Movie of 3 girls in Danish mud, I dug a hole behind my house and rain did the rest, they enjoyed it very much :-)

Pat & Wan get sprayed by a garden hose, then take a walk around the city to show their wet clothes

Muddy girls grow in trees :-) Good they can wash afterwards.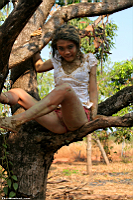 Fun on the beach with two girls in jeans

Nice movie of 2 girls wading in deep mud and getting so dirty!

Two friends start out playing in a lake, but end up rubbing and moaning in wet mud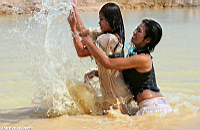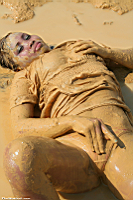 Her white jeans soon get gray by the mud she is rolling in...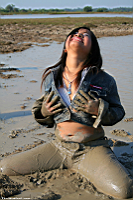 Wang is holding some firm balls while getting all muddy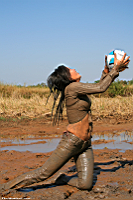 Movie of Ran, Jing and Ging, in the back of our house in Denmark, playing with wet clay

Pat & Wan on the beach in long pants, walking between all the tourists :-)

A two-parter, first in sexy outfits getting dusty, then some pics in the mudpit behind our house.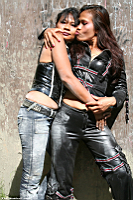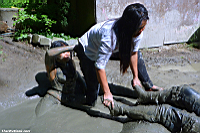 Movie of 2 girls in tight jeans wading around in a lake, one in very long pvc boots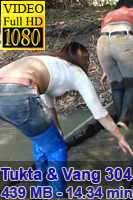 Omte first gets made up by her friends, then shows off her cowboy outfit with cut off denim shorts and short top.
Her nice boots get wet and a bit muddy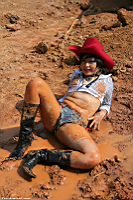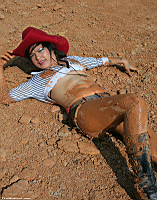 An extra pictureset of the two girls in their wet jeans!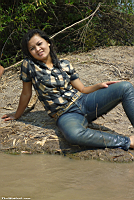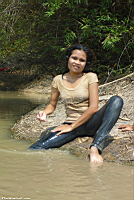 Very nice movie of two Thai girls in regular jeans, blouse and shirt, getting all wet and having so much fun!

Wang is a hot girl with her string in an all jeans outfit!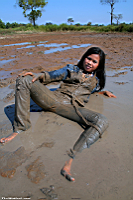 New girls Pat & Wan in white and blue jeans walk around the city, then decide to go to the beach :-)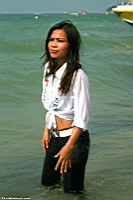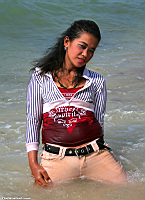 Good movie of two girls in jeans rubbing each other on their dirty clothes

Little set but very hot! Two little red dresses, two hot girls and some cooling water!

Two girls in jeans get muddy with nice, wet mud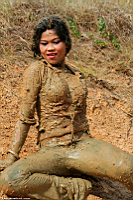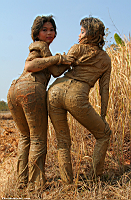 After mudding it is good to wash yourself!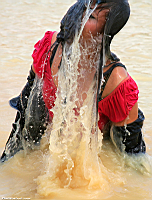 Animalprint top with little fur coat and a shiny red blouse, both in hotpants!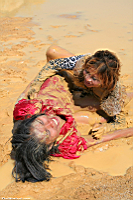 Tight jeans getting dirty in the yellow clay!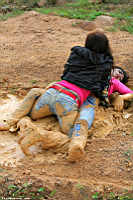 2 Movies of Noa and Goi in several outfits playing in a little stream.

Wearing a silky yellow dress and a red shirt over shorts, these two find a construction site to get muddy on, washing with a garden hose!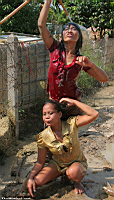 Tukta and Ba find some good mudspot and get their jeans dirty and wet.

Bee and Tae in silky shirts and jeans in muddy water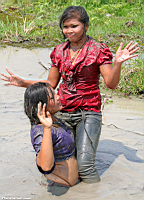 Two girls first get their jeans dirty in mud, then play in water to get clean again!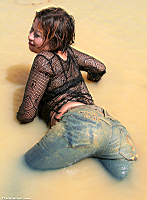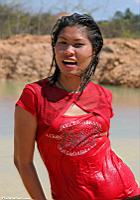 By request Pall finally shows her breasts, covered in mud!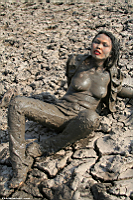 Actually a very dry set this week, 2 Thai girls get their jeans dirty, dusty and ashy, and play with each other!

Movie of Nit and Thip in clothes, playing very sensual and wet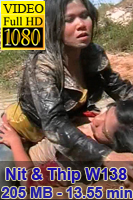 Mature Thai ladies in jeans jackets and on All Stars sneakers play around in muddy water.

Not much water here, but those dirty jeans in the mud are very nice to enjoy!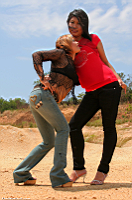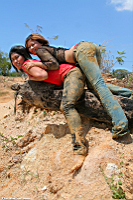 Two girls get their jeans muddy and try to keep the satin blouses clean.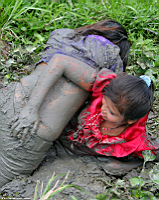 They get their jeans dirty in some mud, and wash it off in a lake!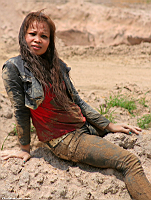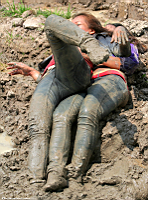 Two girls begin in jeans jacket and a white skirt, but end up in hotpants and muddy water!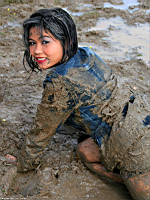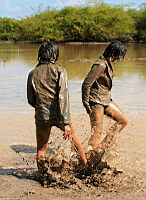 Mud, water and dust make a fun way to get dirty :-)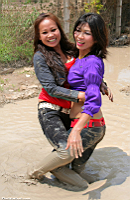 3 girls in jeans get a little muddy, then wash it in a lake!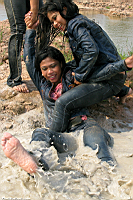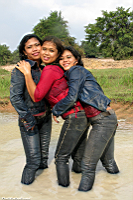 Far is wearing black leather boots and hotpants when she rolls around the orange clay of her village

Pall in hot skirt and white top gets herself dusty, then washes herself with a garden hose.

Ann & Por playing with eggs part two, funny movie of girls in jeans rolling around in broken eggs.

Oy and May in wet sand wearing thigh high lack boots!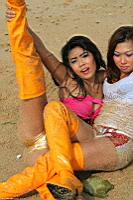 After crawling around in some dust Gao and Ging find orange mud with just a little bit of water on it,
making it great to do their muddy ballet-like style in jeans outfits.

4 girls play in muddy water and get dirty. At the end they take of their clothes to wash them.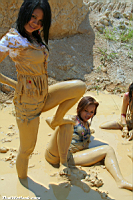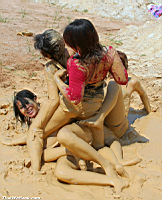 30 minute movie of two Thai girls, first a little cat fight on the ground,
then they wade into a deep puddle of soft mud, used to make clay from.
They sink deep into the sticky, slimy mud and have a hard time getting out.
At the end they reach dry mud and show their muddy clothes.
Available for limited time only!

Ging and Ran in jeans walk into a lake, but the bottom is filled with gray mud.
A good way to get wet and have fun!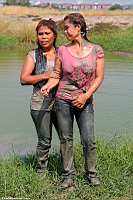 Por is having a fag while sitting in gravely mud. She gets her jeans all dirty on the ground in the process.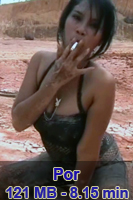 Ann and Wan play and fight in a shallow puddle with orange water!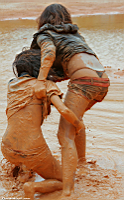 3 girls crawl around a muddy lake filled with orange water.
Soon they are playing and throwing each other around.

uk and Wan have some dirty jeans and white blouses, so they wash themselves in the ocean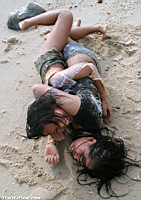 2 girls wiggle themselves in a mud pit until they are stuck 2/3 of their bodies in the slimy mud.

Tukta and Ba are playing in a little stream in their tight jeans pants!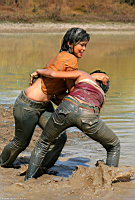 Ann & Por are wearing jeans pants and jeans jackets and they decided not to go swimming, but to play with eggs.
Breaking eggs on each other, playing with the yoke, sliding on the floor.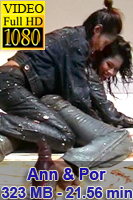 Ging and Pall in jeans get dirty in the mud, especially Pall covers herself in wet mud!

31 minute movie of Bee and Rai on a rainy day, they get stuck in the mud knee deep and play to get dirty!
Bee is wearing a jeans pants and jeans jacket, Rai is in shorts and a pvc downjacket.

Ann & Wan on high lack boots, first Wan eats an icecream the dirty way, then they pose and play in orange mud.

Bee and Rai play in short shorts on a river bank and get themselves muddy. They wash each other in the lake, having fun.

We got some nice compliments last week, so here's another pool-set:
Om and Dun swim around in sexy clothes, with little skirts and bra tops.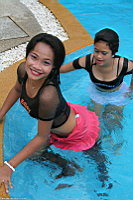 Movie of 4 friends in the swimming pool, wearing red clothes and playing, laughing and having fun being wet!

Nut & Bo in blue and pink dress on the shores of a ricefield where they play in the muddy water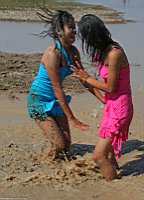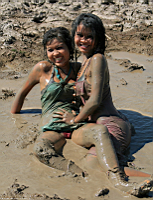 2 friends go for a walk and find a little mud puddle.
They first get their sneakers (Converse All Stars) wet and muddy, before they roll around in the mud in their jeans and downjackets.

Two of our most popular ladies are back, Ging and Pall use a rice field to ruin their clothes :-)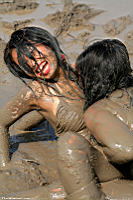 Movie of Noi and Gao on the border of a rice field.
First they make a mud spot but soon they roll into the water and get their jeans all wet.
Lots of humping and Thai talking and laughing! :-)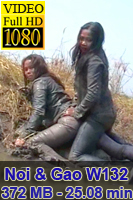 3 friends take a ride through the city to end up on the side of the road where there is a puddle of dirty, muddy water.
They jump in and pose and play, Ann in a tiny skirt with lack boots and Mon with Gong in tight jeans and white blouses.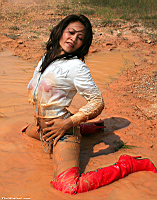 2 Thai girls walk around in mud in jeans to get completely mudded at the end!
Very Funny to see how they play in the slimy mud, wrestle and have big fun together!

Oy and Gan are both wearing long jeans and a jacket over a shirt, they play on the beach and walk around the city wet.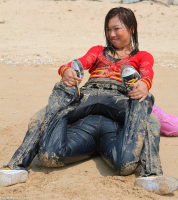 Ann and Por find a spot with very enjoyable mud, where they sink until their knees.
Later on they discover a place near the water with even thinner mud, covering them fully.

3 friends go mudding just outside the city, they find a dark mud hole to play in, and wash themselves in a little lake.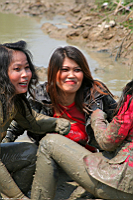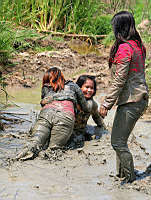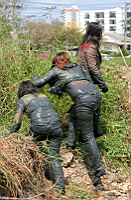 Bee and Rai fight in the mud, while laughing and getting very, very dirty!
The movie is nice and long, over half an hour! The assistant also got stuck in the mud, we shot that as well ;-)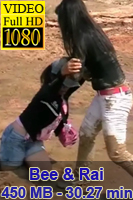 2 Thai milfs in jeans all wet, and a little bonus, a small set of 2 girls in bikini I met in Pattaya.

Movie of Bee and Rai, they roll in the mud and wash themselves in an exiting scene!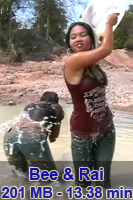 Noi and Jane are cousins and show a lot in this wet set.
Both are wearing revealing sets, where the white one s most c-thru ;-)

Ging and Gao in very wet clay rolling around sexy. At the end some nice washing with the garden hose.

2 girls play in muddy water, including some nice behind the scenes of the washing off.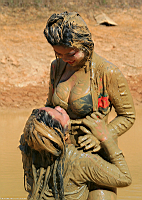 16 minute movie of 3 Thai girls in very sticky mud. It's hard to move in their jeans.
Actually it was one girl doing a photoshoot, and her friend and the photographer (Ging) jumped in at the end of a nice day.


Nut & Bo in very short hotpants and lingerie tops walk on mud, to find a wet spot to play in.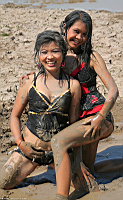 Long movie of Beer in white lackboots walks around in mud and rolls in water.

Something for the footlovers this week, bare naked feet in clayish mud!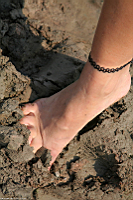 Long movie of Ann and Por in jeans outfits, making love in sucking mud.
Their clothes stay on, but the sounds and movements sure are suggestive!


(Click for sample)
Two sisters after a mudbath try to wash themselves a bit :-)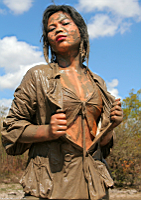 3 Thai girls are wearing jeans outfits and roll on the ground in the dust and dirt.
Mostly it's dry and messy, but at the end they get some wet mud as well.

Two girls at rocky beach try to stand up in the breaking waves. Hot skirts.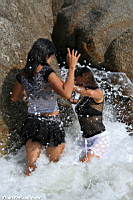 3 friends in hotpants and small tops in a waterfall.

Nat & Bon in very hot outfits at the sunny beach! They get wet and pose inviting.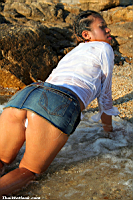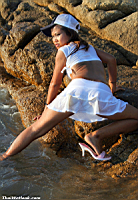 Movie of three girls playing sexy in a thin muddy goo!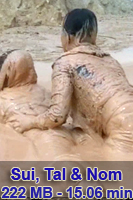 Oy and May in very hot hotpants, sexy and shiny with a nice cameltoe :-)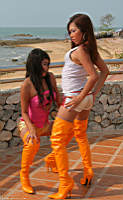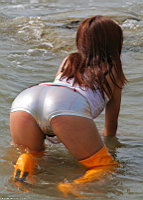 Movie of May, destroying the boots she wore before. First breaking them, then burning them.

Tukta and Ba play in very muddy water. They shout from the fun they are having and play wild to get all wet, and later on, all muddy.

Reprise of 4 friends on a mudtrip, this time an extended version of not 10, but 24 minutes girls playing in mud!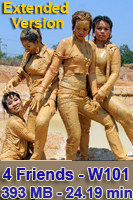 4 friends at a wet place in the yellow clay, where they get themselves very dirty!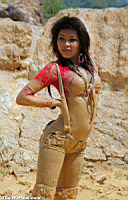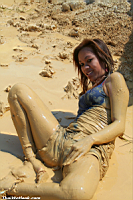 Bambi from Denmark visited us in Thailand and right away got her thick-high lack boots stuck in quicksand.
Pat and Gai jumped her and dragged her into a muddy waterpit, they played and at the end even found some good yellow mud!

Nam and Hom at the beach in a white pants and denim hotpants. Wildly playing and getting completely soaked!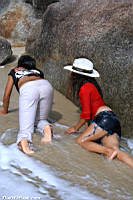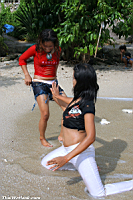 Movie of May and Nut in the pool, in 3 different outfits! They play, tie Nut up and pose in a lovely pink dress.

Noi and Jane first play in their jeans in some wet mud, then move to the ocean to get clean and wet.
They play a lot and are having big fun!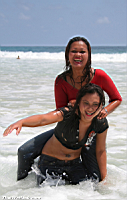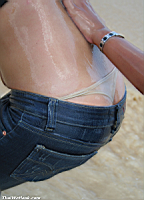 Tukta & Ba crawl around in their jeans (one flared) and get them dirty.
That needs to be washed off in some dirty water :-)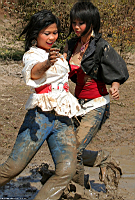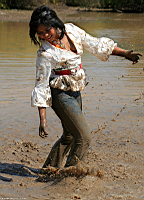 2 Movies of Oy and Pat! First they play in their kinky lack outfits in mud and water,
and after a good cleaning up they return in their jeans to play some sexy game in wet mud!

Nit and Tip are very sexy and playfull girls on All Stars in muddy water.
At the end they take off their jackets and wash their clothes outdoors.

Long movie of 5 girls at Pattaya beach in regular outfits and some sexy hotpants.
They get wet in pairs or single, so no big group, which gives a good focus on each girl.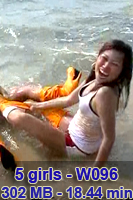 Tuk and Wan in a dried up river bed with yellow clay get their jeans and white blouses dirty!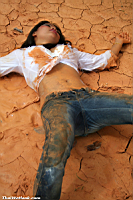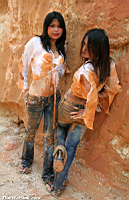 Movie of Bo & Nut in jackets and jeans in water and later on in some wet mud.
They play and fight for fun, cheered by the cameralady :-)

Something else this week, odds and ends from various girls:
Tukta and Ba after the shoot, posing in two outfits provided by my fans, Tuk in a skirt at the pool and Om and Ta in a short muddy set.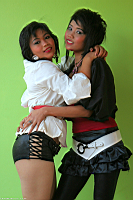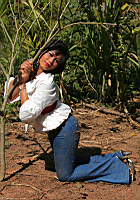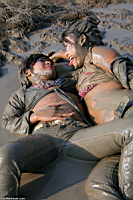 2 Movies of Nong and Pang! Together 20 minutes in 2 sexy and nice outfits they play in water that gets very muddy.
After a few poses and calm details of the clothes they start playing and they had so much fun!

Oy and Pat reminded me of the 80's rockband Kiss :-) Their lack outfits are unusual, but fun.
First they play in some wet mud to get a good contrast, then they wash and play in the water.
One heel of a thigh-high boot broke, but is was a fun shoot!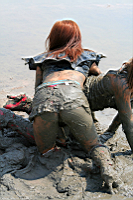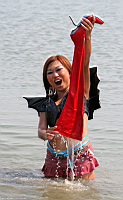 ---